Julian Weaving Works is Pleased to announce the opening of The Academy of Weaving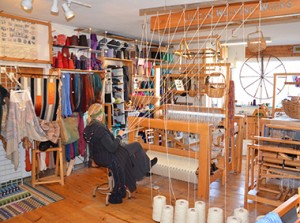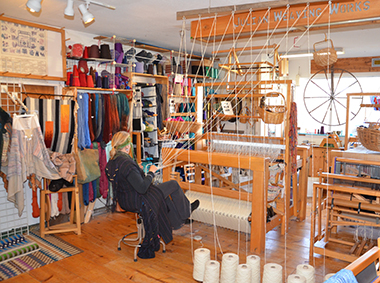 In Santa Ysabel and near to Julian, the history of the surrounding area lends itself beautifully to this ancient craft.
Whether you are new to weaving or ready to expand your knowledge
Learning possibilities at beginning and intermediate levels
Classes will be limited in size and cater to individual needs.
Warped looms ready to use will be provided, 4 & 8 shaft jack and counterbalance
½ to 2 day programs designed as an introduction allowing you to complete either a scarf, shawl or lap throw
3 & 5 day programs include lectures, discussions on color, yarn selection, fabric structure, workings of the loom, clean edges and rhythm, warp design and warping
Explore tabby, beginning twills, simple overshot, leno, inlay, weft face weaving, warp face weaving, inkle band weaving and summer winter or bound weave for the challenged weaver
Examples of items you will weave are throw, shawl, scarf, runners, rag rug, pillow bag and other useful items to enhance your life
Glimakra and Leclerc looms, equipment, supplies and repairs
Used looms and equipment at reasonable prices. I have never met a loom I didn't like and enjoy bringing used looms back into production
Spinning instruction and supplies including locally grown fleece and roving
Keep checking website for dates and times of workshops
I am excited to be able to share the accumulation of knowledge of 38 years and help in any way I can to assist you on a path that has brought me such joy and satisfaction.